Former Director of the Addiction Science Research and Education Center at the University of Texas
Carl retired from the University in May, 2018, and now lives in Austin with his wife Eunice, who is a retired pharmacist. His biographic info is still available at the UTexas website: View Here
---

The Science of Addiction: From Neurobiology to Treatment
A comprehensive overview of the neurobiology behind addictions. Neuroscience is clarifying the causes of compulsive alcohol and drug use while also shedding light on what addiction is, what it is not, and how it can best be treated in exciting and innovative ways. Current neurobiological research complements and enhances the approaches to addiction traditionally taken in social work and psychology. However, this important research is generally not presented in a forthright, jargon-free way that clearly illustrates its relevance to addiction professionals. The Science of Addiction presents a comprehensive overview of the roles that brain function and genetics play in addiction. It explains in an easy-to-understand way changes in the terminology and characterization of addiction that are emerging based upon new neurobiological research.

---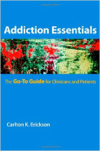 Addiction Essentials
An up-to-date guide to the causes, diagnosis, and treatment of addictions.
Whether it's to caffeine, nicotine, or alcohol, many of us suffer from at least one addiction. Carlton K. Erickson presents a comprehensive overview of the various types of addictions—covering both substance and nonsubstance addictions such as gambling, Internet use, and video games—and their diagnosis and treatment. This book sheds light upon the biological and environmental factors that cause addiction, reviews the various types of substance and nonsubstance addictions, and offers clinicians and patients hope for recovery.